Mobile Broadband Roaming Tool
Find the cost of internet access worldwide
Use the drop down selector below to find the country and see mobile broadband roaming costs for each provider
Now you know the best provider for your destination choose the best deal...
How to use our Roaming Tool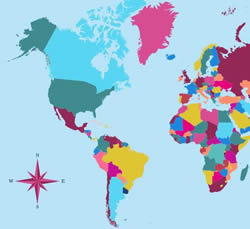 The Broadband Genie Mobile Broadband Roaming Costs Tool has been designed to simplify the process of selecting a mobile network for internet access abroad by providing a quick reference to international data costs and availability across all networks.
If you would like more general information about roaming, including the use of PAYG abroad and details on the EU roaming caps, please visit our guide to using mobile broadband abroad.
To use the tool, simply select a country from the drop-down menu to compare international data pricing for the four major networks and, when applicable, other providers which offer specialised roaming services.
This tool is meant as a guide only, please keep the following in mind when using it...
Only the lowest contract prices are shown
Every network has a variety of price points for international data roaming, including discounted data bundles. To keep things simple we only display the lowest price for using a standard contract service in each country. This does not always mean best value; in many cases you will be better off purchasing a bundle to get the most for your money, though if you only need to quickly check email or browse a web site this may not be desirable.
In instances where a network offers both a flat per-MB charge or a data bundle, we will show the per-MB charge. If there is no per-MB charge you'll see the lowest bundle price.
Pay-as-you-go prices are not displayed. These may be the same as the contract packages, but you should confirm with the network. Note that some networks do not allow data roaming on PAYG.
Coverage is not guaranteed
Just because a price is shown it is not any guarantee of connectivity. If internet access is vital you should confirm coverage with the network or have an alternate option if there's no signal.
Check prices before travelling
Keeping this information up to date is a mammoth task. While we will do our best to ensure it is current we cannot promise to catch every price change the moment it happens. Broadband Genie cannot accept any liability for unexpected costs incurred, so if you are planning on making extensive use of the internet when travelling it is always good idea to double check the prices to avoid any surprise bills.
Found a mistake?
Have we missed your home off the tool, or listed an incorrect price? Perhaps there's a feature you'd like to see? Please let us know.