The Genie guide to broadband in Bristol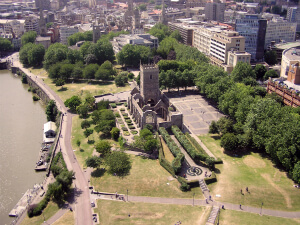 Bristolians rejoice - your city has excellent broadband. All the major exchanges - Bristol West (Clifton), Bristol North (Ashley), Eastville, Redcliffe, Easton, Bristol South (Totterdown) and Bedminster - are enabled for ADSL and ADSL2+ with a wide variety of LLU ISPs.
Plus you also have the option of fibre optic over the telephone line and Virgin Media network fibre at these locations, with the added bonus of rare FTTP (Fibre to the Premises) at the Bristol South and Easton exchanges.
Do double check coverage before you do anything else, though. Even in places like Bristol with strong fixed line broadband provisioning there can still be streets where particular services are not available. This happens often with Virgin Media broadband in particular, and you may find that while a neighbour can get it you don't have the option.
To narrow down your search enter a postcode into our comparison table. We'll provide a filtered list of ISPs showing only services that should be available in your area, at which point you can click through to the provider and confirm availability.
Superfast broadband coverage and speed in Bristol
| | | |
| --- | --- | --- |
| Area | Superfast (24Mb+) coverage | Mean download speed |
| Bristol East | 97.69% | 37.8Mb |
| Bristol North West | 98.43% | 39.7Mb |
| Bristol South | 97.47% | 32.1Mb |
| Bristol West | 94.81% | 36.1Mb |
Source: Thinkbroadband (last checked 14/07/17)
The future of broadband in Bristol
Bristol is rapidly becoming one of the best-connected cities in the UK. Hyperoptic launched the first commercial gigabit services in 2014. More recently, Triangle Networks began offering ultra-fast connectivity to businesses thanks to a partnership with CityFibre. And Bristol Network is now offering speeds of up to 10Gb using fibre optic cable ducts leased from the council.
Comparing mobile broadband in Bristol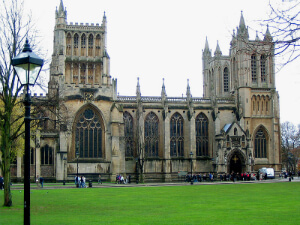 Bristol offers very good mobile signal coverage for its residents. The city centre and outlying areas are blanketed by 3G with all the networks providing strong signals so you can expect a reasonable performance from a 3G mobile broadband dongle.
Bristol also enjoys good 4G coverage. The superfast next-gen mobile service is widely available from Three, O2, Vodafone and EE so you can enjoy mobile broadband at speeds that match or exceed some home broadband connections.
As ever though you do need to confirm before buying that the signal is available if you plan to use it regularly in a specific location. Read our mobile coverage guide for more information. Or access the network coverage check tools by clicking these logos:
Mobile broadband speeds in Bristol
To give you an idea of what to expect from mobile broadband services in the city, this table shows the average speed of 3G and 4G on all networks, as recorded by OpenSignal.
| | | |
| --- | --- | --- |
| Network | 3G download / upload | 4G download / upload |
| EE | 7.9Mb / 2.1Mb | 31.0Mb / 9.8Mb |
| O2 | 4.0Mb / 1.3Mb | 13.1Mb / 6.1Mb |
| Three | 7.5Mb / 1.4Mb | 26.3Mb / 8.4Mb |
| Vodafone | 4.2Mb / 1.8Mb | 17.2Mb / 7.0Mb |
Source: OpenSignal (last checked 14/03/17)