Buyer's guide to Three MiFi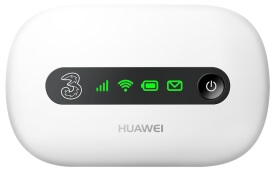 Standard USB mobile broadband dongles are sufficient if you just need to get a single computer or laptop hooked up to the mobile internet, but if you're trying to do this for multiple devices or anything other than a Windows or Mac computer then you're going to run into problems.
For those situations a MiFi dongle is perfect. They transmit a Wi-Fi signal which allows any nearby device to connect and get online. That means it'll work with absolutely anything which supports wireless networking, including tablets, games consoles and smartphones.
It also means you can easily share the connection with multiple users, something that's very tricky with a USB dongle.
Why is it called MiFi?
You may have heard of these gadgets before, but under a different name - they're often referred to as Wi-Fi dongles or pocket Wi-Fi.
MiFi is a Three brand name. They are functionally no different, but Three was the first network to launch them in the UK and decided to go with its own moniker.
This term has become a generic name for wireless dongles, but when we're talking about MiFi on Broadband Genie we are specifically referring to Three's devices. If you're looking for a network other than Three please visit our Wi-Fi dongle comparison page, which lists all providers.
3 Mi Fi vs USB dongles
Not sure if you'd be best off with a MiFi or a USB dongle? They differentiate on several key points which may help you decide...
The Three wireless dongles support between five and 10 connections at once. This is handy for sharing it with friends and family, and also means MiFi can make a good replacement for home broadband, especially now that 4G is available.
USB dongles are limited because they only connect to a single computer at a time, and only support specific operating systems. A MiFi unit works with anything that can connect to Wi-Fi.
One downside of a MiFi dongle can be the cost - they tend to be at the more premium end of the dongle market so aren't best if you're just after the cheapest possible mobile broadband. For cheap deals look for USB dongles, or the more inexpensive contracts with no set-up fee.
Choosing a MiFi deal
Check out the comparison table above and you'll see our offers are broken down into various key areas. Click these headings to re-order the table and compare specific criteria, or click the Three logo to read other user's opinions and leave your own review.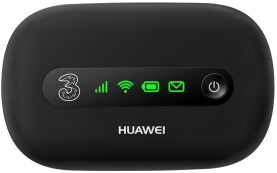 This comparison page includes both contract and pay as you go MiFi. PAYG MiFi deals tend to have a relatively hefty set-up fee, but this is down to the cost of the MiFi dongle itself, and this does include some data to get you started. And sometimes the initial data credit will have a 3 month expiry rather than the usual 30 days.
Contract MiFi packages will often be free to begin with, but in return you are signing up for a long commitment to the network and this is often now a 24 month contract.
Contract is best suited to regular and/or heavy mobile broadband users since you will get more data for the money. PAYG MiFi however is perfect for infrequent or light use as you're only going to spend money when it's actually being used, and of course PAYG top-ups offer a lot more control over the financial side of things rather than having a monthly Direct Debit.
Three network coverage: 3G and 4G mobile broadband
This is important: before you buy any mobile broadband deal you must check the signal in your area. In order to ensure a reasonable performance you'll need a good 3G connection, anything else is just too slow.
You can access the Three network check tool here. For more information on network coverage in general visit our guide to national coverage.
4G is now available on Three but it doesn't yet have the national coverage 3G users enjoy. On the bright side 4G is available to all customers without any change in prices, however 3G dongles will not support it so you will need to purchase new hardware. 4G is also hugely faster anywhere you can get a reliable signal, with speeds rivalling those of home broadband.