Vodafone Mobile Broadband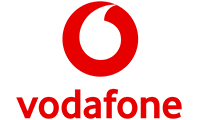 'Refurbished' iPad deals are previously returned, reset, tested, with full warranty

BT Wi-Fi and Wi-Fi access on London Underground via Virgin Media
Best selling deals from Vodafone:
Pay monthly deals
Vodafone Micro SIM 2GB

24.3Mb

max speed

12

months

£11

per month
All Vodafone pay monthly deals >
Tablet deals
Vodafone Apple iPad 10.2 iPad

24.3Mb

max speed

24

months

£31

per month

Vodafone 16GB HUAWEI MediaPad T3 10'' Tablet

24.3Mb

max speed

24

months

£16

per month
All Vodafone tablet deals >
Who are
Vodafone

?

When it comes to standing the test of time, Vodafone wins hands down. It has been in the mobile business since the start, has a good name across the board for reliability and service, and much like its branding relies on reputation rather than flashy bells and whistles.

Vodafone is the only British owned mobile network: it has operations in more than 20 countries and is in fact the biggest mobile network company in the world (by turnover). Launched in 1985, it was one of the UK's original two mobile networks (alongside BT Cellnet, now O2). Vodafone helped pioneer mobile broadband, launching internet access for business customers in 2004 and for consumers shortly afterwards. October 2008 saw the first of its so-called 'free' laptop deals, throwing in a Dell laptop and dongle on a long term mobile internet contract. It launched 'top up and go' in December 2008.

Vodafone announced a network infrastructure collaboration with O2 in March 2009 - the biggest deal of its kind in the world to date. The two mobile internet providers will build future mobile sites together, as well as merging existing ones, aiming to improve coverage, future-proof their network and of course cut costs.

2010 saw Vodafone branch into both mobile Wi-Fi units and SIM cards/deals for handheld tablet devices. In 2011 it introduced its 'data test drive' service, letting new smartphone customers use as much data as they like for the first three months of their contract so they can more easily set their required data limit going forward.

In August 2013 Vodafone launched its 4G mobile broadband service in the UK, beginning with a limited rollout to parts of London and gradually expanding across the country.
What does Vodafone mobile broadband offer?
There's an extensive choice of Vodafone mobile broadband deals to suit most requirements. Vodafone offers mobile broadband SIM and hardware bundles with USB dongles, mobile Wi-Fi dongles, in-car Wi-Fi dongles and iPads and tablets. Or if you already have the hardware you can choose a SIM only deal.
Vodafone's hardware bundles are available with either 30 day or 24 month contracts, and the data limits range from 2GB to 50GB.
For SIM only deals you can choose either 30 day or 12 month contracts, again with monthly data usage limits of between 2GB and 50GB.
Vodafone mobile broadband review - the Broadband Genie verdict
We like…
Fast 4G speeds
Free international roaming
Generous data allowances
We don't like…
Expensive if you exceed the usage limit
Vodafone mobile broadband deals offer a comprehensive choice of packages, whether you need a hardware bundle or just a SIM. Although its hardware options only offer either 30 day or 24 month terms (SIM only is available with 30 day or 12 months) there is no difference in the monthly costs, just up-front fees, so you can choose a flexible monthly contract without paying too much extra for the privilege. And all Vodafone mobile broadband deals include free 2GB roaming data each month in selected countries.
Vodafone also performs well on speed tests, with the last Ofcom smartphone cities report showing it achieving an average 4G download speed of 18Mb. That's better than many home broadband connections, and plenty quick enough for anything from web browsing to HD video streaming.
However you do need to carefully consider how much data you might use each month because if you go over the limit Vodafone charges a hefty £6.50 per 250MB. But with up to 50GB available for a reasonable price, excessive extra costs can be easily avoided.