Guide to finding the best home broadband deals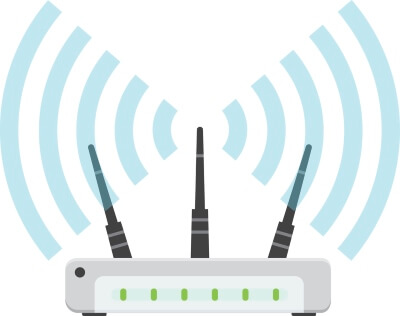 If you're the kind of person who likes to find special offers and bargains, a new broadband package is a great place to save. Just a brief glance at the choices in the comparison table above will reveal that there's an enormous selection of internet packages and technologies to search through.
But it's not always obvious which might be the right fit for you or how you go about getting the best broadband deal. In order to pick the ideal service you need to consider a number of factors.
When it comes to home broadband deals there are several things to take into consideration. First, the best deals tend to be reserved for those signing up for multiple services with the same broadband supplier. If you're only considering broadband it's worth thinking about home phone lines and TV deals too.
Next, remember to take the long view on short term offers – and don't get blinded by the shinys! Many packages include free gifts, but while a high street voucher may be tempting would you be better off financially going for a broadband deal which offers free broadband for six months? It can be well worth getting the calculator out.
Finally, make sure you're getting what you need from the service – not just the best deal. You can filter our tables by data limit and speed as well as price and contract duration, so you can be sure that bargain price will actually keep you online in the manner you've become accustomed to.
What's the best broadband deal?
We're often asked a seemingly simple question: what is the best broadband deal? Unfortunately there is no single right answer because one person's perfect internet package is not necessarily the correct choice for someone else.
In order to find your personal best broadband deal you need to consider your own requirements and budget and use our comparison tools to search through the available options.
So what do you need to look for, and how do you choose from the many internet deals in the UK?
How to compare the best broadband packages in your area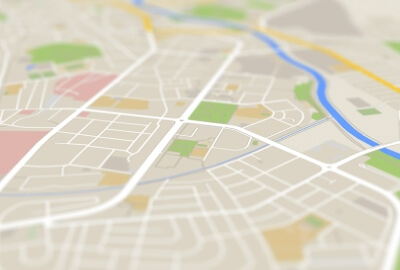 Broadband services vary across the country, even to the point where a broadband deal available in one street is slower or not available in the next road over. So the first step to finding your perfect deal is investigating what types of broadband services are available in the local area.
When you compare broadband deals using our comparison tables you can filter by location using a postcode, eliminating services which are not on offer. You might also wish to visit our broadband in your area guide, which provides a detailed look at broadband in many towns and cities across the country.
Your options for home internet
There are two different types of fixed line UK broadband services you'll find listed in the home broadband section of our site. Understanding the difference between them is important to help you make the right choice as you compare packages and search for the best broadband deals.
ADSL home broadband
ADSL is an entry level broadband servie and has the widest availability. It uses the BT Openreach telephone network to provide speeds of up to 17Mb. However, there are still some areas where the exchanges have not been upgraded and the maximum speed may be limited to 8Mb. Just keep in mind that the actual speed of any ADSL service may be much lower than the "up to" rate you'll see advertised. It's not only affected by other users in the area but also your distance from the exchange and the quality of your lines.
ADSL is offered by many ISPs, not just BT. With such a competitive market it is generally the cheapest way to get broadband in the UK so is the best service for anyone wanting to keep costs to a minimum. You'll not only find internet deals with very low monthly fees but lots of special offers such as free setup or months of free service. However, it is not the quickest option for many of us so if speed is a concern you'll need to look elsewhere.
Pros
- The most widely available UK broadband service.
- Very low setup and running costs.
- Competitive market means lots of packages and deals to suit different budgets.
Cons
- Slow compared to fibre.
- Good performance dependent on your lines and distance from exchange.
- Always requires a telephone line.
Fibre optic home broadband
Fibre internet uses high speed fibre optic cables and is what you'll want to look for if you're after the fastest and best internet deals. Though to confuse matters there are two different types of fibre: Fibre To The Home (FTTH) and Fibre To The Cabinet (FTTC).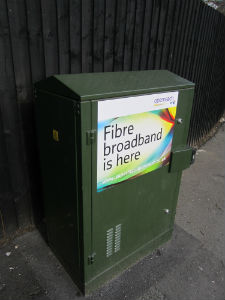 FTTH is 'full fibre' with none of the old copper telephone lines involved in the connection, and is by far the fastest broadband in the UK. Sadly it is unlikely to be an option for most of us as coverage is very limited at present. However Broadband Genie does sometimes list FTTH providers, such as Hyperoptic, so if it is available in your area you will see these particular broadband deals when you compare packages using our postcode filter.
FTTC is a fibre broadband service where the fibre optic runs to street cabinets but the connection into your home is completed using either the existing telephone line or - in the case of Virgin Media - a coaxial cable. This is cheaper and quicker to install, but not as fast. When we talk about fibre broadband deals on Broadband Genie it is most likely to be FTTC technology as this is now available to more than 80% of premises.
Fibre internet uses either the BT Openreach or Virgin Media networks. If you get a fibre broadband package from an ISP such as Sky, TalkTalk, EE or Plusnet it will use the BT network, whereas Virgin Media fibre is only offered by Virgin itself.
Pros
- Much faster than ADSL.
- Affordable pricing.
- Coverage is good and improving all the time, now available to more than 80% of homes.
- Benefits from some of the best value broadband offers
Cons
- Less variation in pricing compared to ADSL.
- Coverage remains more limited than ADSL, particularly for Virgin Media.
How to compare broadband deals and special offers
There's an enormous range of broadband deals in the UK so to help you sort through and find the right package our home broadband comparison tables break them down by the core components. After filtering by location or other criteria such as broadband technology or added features such as TV you can sort the results by clicking on the column headings.
Broadband offers
Under the 'Offer' heading of the broadband comparison table we'll list any special deals as well as expiry dates.
At any given time a comparison will reveal a wide range of attractive specials to lure you toward a particular provider. Broadband offers can be a great way to save some money on your service or just get a nice little bonus, but be sure to consider the full cost. Getting months of free broadband is definitely welcome but make sure the monthly price is affordable for you after the free period ends, and remember that line rental is almost always payable so it's not totally free. Don't be swayed by tempting short term offers alone as you compare broadband packages.
Internet packages
In the Package Details section we use a simple icon system so you can instantly see whether a broadband deal includes telephone line rental, TV or a mobile SIM. For more information about these extras see the section about bundling broadband deals below.
Broadband contracts
The Contract column details the contract term for the broadband deal. As you compare offers you'll find that most packages are either 12, 18 or 24 months, but there are shorter term options available. Some internet deals may be tailored specifically to students with 9 month agreements while others may be rolling monthly contracts.
Cancelling a contract before it ends will incur a fee so short term contracts are a good option for anyone who is uncertain of their long term living arrangements. However they can be more expensive in terms of both setup and running costs, so if you don't have a specific reason for having a short term contract you'll get better value from a regular 12, 18 or 24 month home broadband contract.
Home broadband speeds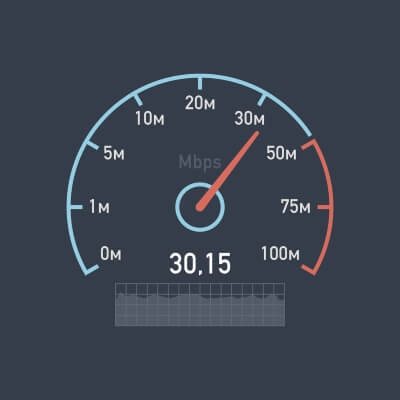 Speed is key of course and one of the first things any of us will look at in a broadband comparison. But it's not always clear what you need. While UK broadband services don't quite offer world class speeds, most of us will have various options and be able to select a package which fits our needs.
As a rough guide, an ADSL deal with speeds up to 17Mb will comfortably handle the demands of a small household where you're mostly using it for tasks like web browsing, social media and email which do not require superfast speeds. If however you will be downloading or uploading large files or the connection is going to be shared with many people then fibre optic broadband will be a much better choice.
But remember that broadband internet speeds are unlikely to reach the "up to" figures quoted by the provider. When you sign up to an ISP you should be given a more accurate speed estimate: make a note of this in case it does not live up to expectations.
Broadband data limits
The Data Limit section will tell you if an internet package has a usage cap, which defines how much it can be used before there's an additional charge or the connection is restricted in some way (often by reducing the speed).
Most UK broadband packages are now unlimited so you never need to worry about it, but if you are on the search for the very cheapest broadband deal you may come across data limits.
An unlimited broadband package is generally the best option for most people, and should be chosen whenever possible to eliminate the risk of extra costs or service restrictions.
Broadband deal prices
In the monthly price column we'll list the charge for the broadband and phone line (if applicable) each month. If there is a free or discount broadband deal offer running we will also include the cost after the free offer period ends. Some of the best internet deals for budget minded buyers are those packages which have a regular low monthly fee, not just a time limited offer.
Broadband offer details
For a more detailed breakdown as you compare broadband deals, click 'offer details and pricing'. Here we'll list any extras the package includes such as Wi-Fi deals and TV bundles.
You'll also find an effective monthly cost pricing calculation where all offers and additional fees are taken into account so you know exactly what your package will cost. This is a very important part of any broadband comparison as the full cost is not always obvious.
Some of these extras are definitely worth considering as they can add a lot of value to any broadband deal. For instance the best Wi-Fi deals will give you nationwide Wi-Fi hotspot access for free so you can get internet on the move at no extra cost.
Note that Wi-Fi deals may also refer to the Wi-Fi broadband router that's included for free with most home broadband deals. If you'd rather use your own Wi-Fi router you should check with the ISP in advance as not all of them allow it.
Should you get a broadband and TV bundle?
Some of the best value broadband deals are those which include other services besides internet access. If you have or were planning on getting a TV service it's worth investigating whether broadband can be included as you may save money by taking both from the same company.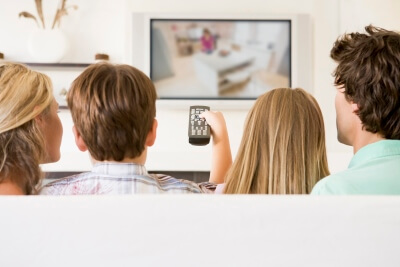 Sky and Virgin Media are the obvious contenders, with their bundled TV and broadband services offering both fast broadband and a huge range of premium channels over satellite or cable. But they are no longer the only game in town. When you compare broadband deals with television keep an eye out for TV packages from the likes of TalkTalk and BT which include Freeview recorder boxes and optional premium channels. These can give you more features than a regular Freeview setup and the choice of extra channels, but also save a lot of money over the premium bundles.
To quickly search through TV offers use the filters in our comparison table to include packages with TV services.
Best broadband packages: what's the difference?
Apart from speeds, there are many other differentiators between the various providers and packages - and there are lots of them too. This can make broadband comparison in the UK's competitive market tricky; are there really any differences? After all, apart from Virgin Media's network, they're all arriving through the same telephone line anyway, right?
More than 90 per cent of UK consumers use one of the 'big four' internet providers; BT, Virgin Media, Sky and TalkTalk. However some of the smaller providers offer great options and are growing in popularity.
One key area is service and support - which often correlates with prices. If you choose one of the slightly more expensive providers you should expect a higher level of service (often UK call centres and 24 hour care), or better hardware and advanced options (your own IP address, a better wireless router etc). While not for everyone these slightly more expensive ISPs are considered to be among the best broadband providers because of their higher standards of after sales care.
This doesn't mean that the cheapest deals should be ignored though. Cheap internet providers such as Plusnet and TalkTalk can save you a lot of money while offering a solid level of service and equipment. After all, home broadband in general is very reliable and you don't need to buy the best equipment to get online.
In the end, it's best to do your homework. Ask your friends about their experiences, read some of our thousands of customer reviews and look at Broadband Genie's independent home broadband surveys.
Useful guides on Broadband Genie
This is very much an introduction to a few key decision areas you'll want to consider when comparing broadband deals. If you want to expand your knowledge in any of these areas, you can check out our help section. Here are few of the guides on offer:
Broadband speed test: If you just want to know how fast your home broadband is, simply use our free broadband speed test.
The broadband dictionary: If you find the technical terms we use confusing, you can visit our glossary to have them explained in more detail.
Switching: looking to move from one broadband provider to another? Find out how to do it here.
Troubleshooting: If you're having problems with your broadband, here's how to check the basics before you get onto your provider.
Speed guide: Don't know your uploads from your downloads, or know how fast your internet really should be? Find out here.