In this guide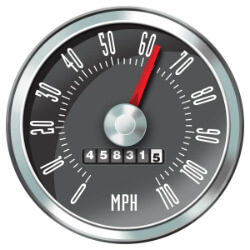 It's been a long time coming but superfast and even ultrafast broadband is now widespread throughout the UK. Millions of us can take advantage of internet access which can far outpace the old ADSL that's been standard for years. 
Is it time you gave your broadband a shot in the arm and upgraded to a faster connection? Let's take a look at what it means, what it could cost and why you'd want to do it.
Who should consider a broadband upgrade?
The obvious answer is that if you've been finding your broadband sluggish of late you should look into upgrading to make it a more enjoyable experience.
While ADSL or 3G would have been fine a few years ago we're placing increasing demands on our connections and this older technology can't quite keep pace. Between computers, consoles, tablets, smartphones, network storage, home automation and other equipment, even small households can use a surprising amount of bandwidth. 
This is irritating if you're waiting ages for a download or find that streaming video constantly buffers, and a bigger problem if you rely on the internet for work.
For families and shared houses we'd recommend a fibre optic or cable broadband service to ensure there's sufficient bandwidth to allow smooth, fast connectivity for everyone at all times. And if you use mobile broadband moving to a 4G broadband service can provide a huge boost in performance over 3G.
Another reason to upgrade is unifying all your home entertainment services into one package. Getting TV, phone and broadband (perhaps mobile phones and mobile broadband too) from the same provider can save money, and it simplifies bill payments. There can be additional fringe benefits as well, such as free streaming services and free public Wi-Fi hotspot access.
What are my options for upgrading home and mobile broadband?
To get started, make use of free online resources to discover what broadband services are available to your home.
For home broadband begin with the comparison tables here on Broadband Genie, where our postcode filter can be used to display deals by availability. In many cases this is the only thing you need to get started. However, on occasion the postcode check may say a particular type of broadband is available because the exchange is enabled, but it might not actually run all the way to your property.
For more information use the tools at SamKnows.com. The exchange search displays details of your exchange while the availability checker can tell you exactly what's on offer to an address.
When it comes to mobile broadband things can be a little trickier. Every network operator offers coverage check tools but you should only use these as a rough guide. There is no guarantee of service at any location as the signal can be affected by obstructions, and as we all know there are times when a mobile phone just loses connectivity due to dead spots even in areas where it should be working.
The easiest way to confirm is to use a mobile device in the area to check signal for yourself. Of course, if you already happily use a particular network provider it makes sense to stick with the same company.
To find out more read our guide to mobile broadband coverage, which includes links to the coverage check tools for all network operators.
Fibre optic broadband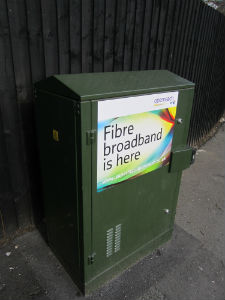 The Openreach (BT) fibre broadband network is the largest in the country, covering tens of millions of homes. It's sold by many providers so the competition means there can be some good deals, and it can offer an average speed of around 35Mb, 50Mb or 65Mb.
If you presently have ADSL or ADSL2+ this is probably the easiest and cheapest upgrade route since it uses the BT phone lines and even the entry level package is more than twice as fast as the best ADSL connection. Fibre broadband also provides a much better upload speed of 20Mb, a huge improvement over ADSL.
Virgin Media broadband
Virgin Media fibre broadband is available to just over half of the UK's population and now provides speeds over 300Mb, making it the fastest mass-market broadband service. It has a smaller and patchier footprint than BT's fibre network (it's not uncommon to find coverage varying from street to street) and may require engineer visits for installation. But right now this is the top choice if you want the best possible speed. 
4G mobile broadband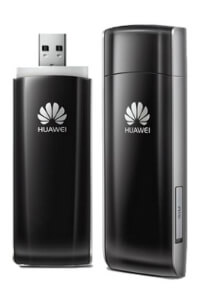 4G was first launched in the UK by EE in late 2012 and is now also available from Three, O2 and Vodafone. When comparing mobile broadband you'll notice that the speeds are quoted as high as 80Mb, which is faster than many fixed line services!
This of course is a theoretical limit and in reality you're not going to achieve that kind of performance from a mobile broadband device any time soon, but 4G does offer a noticeable improvement over 3G and in practice speeds of 20-40Mb are not unusual. Provided you've got a strong 4G signal in your area moving to 4G can make a big difference, and doesn't have to cost much either.
Which broadband providers offer TV upgrade deals?
BT
BT TV runs from the YouView platform, which is a Freeview box that provides PVR, live pausing and integrated catch-up TV streaming. BT's offering is also enhanced with a selection of additional premium channels such as Discovery and Comedy Central. You can also add Sky Movies, HD channels and BT Sport, which is free if you take a BT Infinity fibre deal.
Sky
Sky's satellite TV is a long running and popular premium entertainment service that offers an enormous amount of channels. Since Sky began offering broadband and phone customers choosing their triple play bundles have received discounts and extras, including free access to the Sky Go service for viewing on tablets and phones. All Sky TV customers receive a free Sky+ box with recording, live pause, series linking and streaming of both paid-for and free content.
TalkTalk
Like BT (and soon Plusnet) TalkTalk offers a TV service via a YouView box, with the usual array of Freeview channels plus optional premium extras, including Sky channels and Sky On Demand, and TalkTalk also operates its own movie rental service. Additional TalkTalk TV channels are offered on a monthly basis and don't involve a lengthy contract.
Virgin Media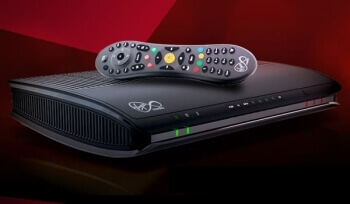 Virgin cable TV has a similar selection of TV channels to Sky and also offers a mix of packages tailored toward viewers who want movies, entertainment and extras like HD. One big difference (aside from it being delivered by cable) is that Virgin Media use the popular TiVo viewing box. This offers digital video recording, series linking and video streaming through an intuitive user interface which has garnered a loyal fanbase.
Do I need to upgrade my hardware?
Moving from ADSL to fibre optic or cable home broadband will mean you have to get some new equipment compatible with the faster connection.
Some fibre optic providers may supply a setup which uses a separate modem and wireless router, while others provide a router and modem combination. If you have a router you wish to continue using with fibre optic broadband or you want to upgrade to a better model this may be possible, however you should confirm with the ISP that this will work as they do not always permit the use of unauthorised devices.
For Virgin Media you'll be given a Virgin Super Hub router, though by enabling modem mode it is also possible to use a separate router should you require features not available on the Super Hub.
If you're upgrading to 4G mobile broadband from 3G it is likely you'll need new mobile broadband hardware which supports 4G. Your network provider can supply this or you can purchase it separately. However 4G capable devices - for example the Google Nexus 5 smartphone and recent Apple iPad models - have been on sale for a couple of years now so you might just need to delve into the settings to enable 4G access.
If you want 4G access on a tablet which has integrated 3G mobile broadband you will have to either purchase a new model or use a 4G mobile Wi-Fi dongle as it is not possible to upgrade these. For laptops it may be possible to purchase a newer mini PCI-e card, but this is probably not something your network will be able to supply.
How do I upgrade my home and mobile broadband, and what will it cost?
You don't need to spend much to enjoy faster internet. Unlimited fibre optic broadband using BT's network and Virgin Media cable broadband is available for under £20 per month, and for a little more you can get a TV, phone and broadband 'triple play' package. Obviously the cost goes up with the faster speeds but even the entry level options are a noticeable step up from ADSL. There will likely be some setup costs and other one-off fees but keep an eye out for special offers where these charges are waived. You will probably need to pass a credit check too, but broadband without a credit check is available.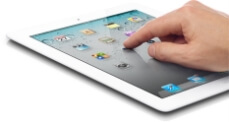 4G mobile broadband varies, as with 3G deals there are a wide selection of packages and options to tailor it to your needs. Most providers charge extra for 4G contracts, but Three offers free 4G to all customers. 
The initial cost for a 4G dongle deal will be fairly low, and free setup is common, but tablet and iPad deals typically include an up-front fee to cover the cost of the hardware, if you want this free at signup you can opt for a longer and more expensive contract, but remember to calculate the overall cost of such offers across the full life of the agreement to ensure they make financial sense.
Find out what's available
See the links above in 'What are my options for upgrading home and mobile broadband?' to discover what services you might be able to get.
Contact your current provider
Whether you want to stick with the same company or go elsewhere you'll need to speak to the ISP to get things moving. If it's just a straight upgrade they'll be more than happy to help, but remember that this will involve signing a new contract so you'll be with them for another 12-24 months. If you want to switch you'll need to follow the proper steps to ensure minimal disruption to service and, if necessary, retain your current phone number. For further details see our guides to switching broadband provider and switching mobile broadband provider.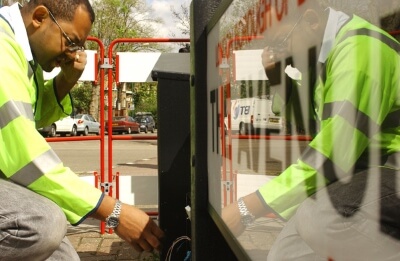 If you're upgrading from ADSL home broadband to fibre optic or cable internet it will likely require an engineer visit, which will be arranged by the provider. In some cases it is possible to choose a self-install for fibre optic broadband, which you may prefer if you're confident about setting it up and don't want to take time off waiting for an engineer appointment.
If you've had an engineer round to setup a new fibre or cable broadband service they'll most likely have configured your router at the same time, so there should be little else for you to do except connect all your devices with network cables or Wi-Fi. The router's default password will be written on a sticker, and you can also use the admin controls to set your own password.
For mobile broadband you just need to wait until the SIM is active before trying to connect. Mobile Wi-Fi dongles simply need to be charged, powered on and then you can connect using the supplied password. For USB dongles software installation is required but you will be prompted for this when plugging it into a computer for the first time.